Making online conversations easier and more fun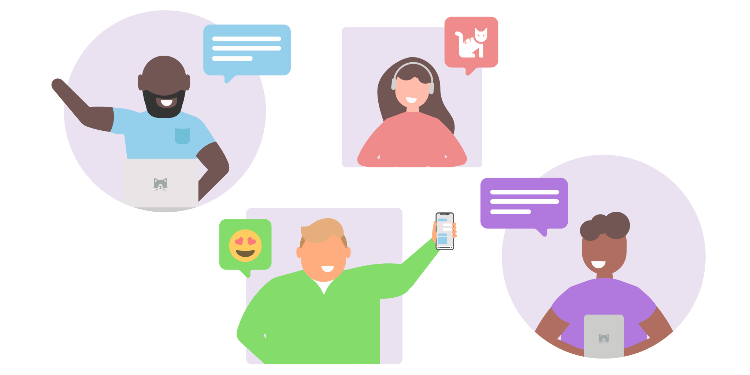 By making chat easier to build, we help people connect with the right people, say the right things, and have meaningful interactions.
---
At ChatKitty, our mission is to make online conversations more accessible and more fun. ChatKitty was founded in Toronto, Canada, in 2020 by two best friends. After building a social app for college students to connect, chat with other students, and help their communities, we realized we could impact more communities and in more ways by sharing our chat APIs. The powerful technology we developed to build modern chat features that consumers expect.
We created ChatKitty to empower builders to develop products and experiences that allow the right people to connect, communicate, and get things done. We believe that developers, founders, and product teams shouldn't spend countless hours building and maintaining readily available chat features - they should be free to focus on creating meaningful solutions to online communication problems facing their users.
We strongly believe that you don't need to be a big company to have a big impact. We are big on a free and fair internet and provide open-source tools to ensure anyone who shares this ideal can use those tools to create a better internet for everyone.
We provide an open and flexible platform to ensure those who share our mission have the freedom to extend our capabilities and build things we can't even imagine. With our commitment to Open-Source software and fair pricing, any builder can begin to create meaningful chat experiences backed by our platform. Our commitment to openness means that the extensions made to our platform benefit every member of the ChatKitty community and their end-users.
If you have a general question for us, please drop us an email at hello@chatkitty.com, and we'll get back to you within a day. If you are a customer and you want to talk to someone in customer service, drop us an email at support@chatkitty.com, and we'll get back to you right away. We love sharing our thoughts on business, culture, design, and technology with the world. If you're interested, read up on what we've been thinking on our company blog. You can reach out directly to Aaron Nwabuoku, our CEO and co-founder @aerovulpe on Twitter, and Raymond Chen, our COO and co-founder @iamuncleray.
If you're just browsing, glad to have you, hope you enjoy your stay. If you'd like to become a customer, we'd love to have you. Either way, thank you for checking us out.